Work Group- A moving task force is a group of people responsible for your office moving. It consists of outside parties like office movers, designers, property managers, and realtors. To work as a cohesive team, internal members from facilities management, human resources, and finance will combine their complementing abilities. The size of your team and the size of your move will determine how many individuals you can allocate to office moving tasks. You might think about including at-large members from other departments. Every department should be consulted at the very least to determine their needs. By doing this, you can be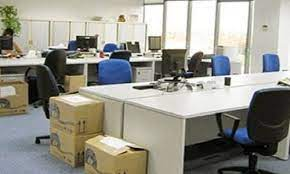 certain that you are speaking for the organization as a whole.
A timeline
Timelines make each stage of the relocation process visible, allowing you to manage time and other resources more skillfully. They also encourage you to have a realistic idea of how long it will take you in total to finish your move. By breaking down big projects into smaller, more manageable components along a timeline, your team will be able to see where they're going both in the near and long term. Consider your operational requirements while creating a project schedule. Consider moving during the season when you are least busy. If it isn't practicable, there are still alternative strategies to lessen workplace interruption. Establish a system for packing and be ready. As soon as a relocation of the office is confirmed, planning can begin.
Milestones
Moving milestones are significant steps in the relocation process that highlight your successes and indicate the beginning of the following stage. To keep your workplace move on schedule, punctuate your calendar with milestones. This is vital when moving through multiple phases because you'll need a thorough plan to cover the project's life cycle. However, smaller initiatives might also gain by utilizing milestones to indicate their advancement. Examples of milestones are scheduling movers, completing construction, transferring a department successfully, setting up IT, and anything else that will define your entire schedule.
Key Question Resolutions
Every significant query about your move should be addressed in your office moving strategy. According to your overall business objectives and relocation plan, specify who and what will move at each stage. Hint: Any questions involving numbers must be answered first. For instance, how many workers will be relocated, how many moving boxes will be required, how much merchandise will be relocated versus how much will be placed in storage, and what is the budget? deadlines and dates.
Assistance For Workers
Department managers should meet with their staff to ascertain their needs and be as proactive in meeting those needs as possible in order to minimize the stress that comes with office moving. For instance, workers with families would have different worries than young singles or those who are almost retired. Everybody's issues should receive equal consideration. Give staff members the chance to learn more and ask questions. Invite office moving professionals in to respond to queries about the actual moving day. Depending on the size of your move, you can also decide to offer relocation packages for your personnel.
Plan for Communications
Engage everyone so they feel personally invested in and thrilled about your office moving, from employees and partners to clients and the wider public. Management may prepare expert, detailed communications by creating a communications plan in advance. This will guarantee that everyone quickly comprehends their tasks, obligations, and accountabilities without overwhelming them. To keep people interested, we advise using a variety of tools to announce a workplace move.
Design strategy
Walk the new office numerous times with space planners and designers to evaluate it. Examine your current resources, including your furniture and technology. Next, decide what needs to be acquired, what can stay in your current office, and where everything will go in the new space. The layout and floor design are essential components of a successful office moving. Make sure your movers have a copy of these documents on moving day and go over them with them so that everything is delivered and installed where it needs to be.
Sifa Movers can assist you with planning your upcoming move. We are skilled office movers and strategic thinkers. Together with your team, our qualified move managers will translate strategic plans into a successful relocation.