Moving can be a daunting and stressful experience, whether it's a local relocation or a long-distance move. To ensure a seamless transition, you need the assistance of a reliable and professional moving company. In Nairobi, Sifa Movers has earned a stellar reputation as one of the best movers in Nairobi. With their dedication to excellence, top-notch services, and a commitment to customer satisfaction, Sifa Movers has become a household name in Nairobi. In this article, we will explore what makes Sifa Movers the best movers in Nairobi and why you should consider them for your next move.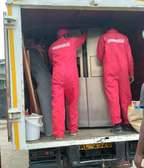 A Brief History of Sifa Movers
Sifa Movers was founded in Nairobi several years ago with a vision to provide exceptional moving services to individuals, families, and businesses. Over the years, they have expanded their operations and refined their processes to meet the growing demands of the Nairobi market. Their journey from a small startup to becoming a leading moving company in Nairobi is a testament to their dedication and commitment to customer service.
Why Choose Sifa Movers?
Expertise and Experience
One of the key factors that sets Sifa Movers apart as the best movers in Nairobi is their extensive experience in the industry. They have successfully executed countless moves, ranging from residential to commercial, locally and internationally. This experience has allowed them to fine-tune their processes, ensuring that every move is executed smoothly and efficiently.
The Sifa Movers team consists of highly skilled and trained professionals who understand the intricacies of the moving process. They are experts in packing, loading, transportation, and unpacking, ensuring that your belongings are handled with care and precision. Their expertise helps minimize the risk of damage and ensures that your move is stress-free.
Comprehensive Services
Sifa Movers offers a wide range of moving services to cater to diverse customer needs. Whether you're moving your home, office, or need specialized services like piano moving, they have you covered. Their comprehensive services include:
Residential Moving: Sifa Movers can handle all aspects of your household move, from packing your belongings securely to unpacking and arranging them in your new home.
Commercial Moving: If you're relocating your business, Sifa Movers provides efficient commercial moving services, ensuring minimal disruption to your operations.
International Moving: For those planning to move abroad, Sifa Movers offers international relocation services, handling all the complexities of international moves, including customs and documentation.
Specialized Moving: Whether you have delicate art pieces, pianos, or antiques, Sifa Movers has the expertise to safely transport these items to your new location.
Packing and Unpacking: Sifa Movers provides packing and unpacking services, saving you time and ensuring that your items are well-protected during the move.
Exceptional Customer Service
Sifa Movers places a strong emphasis on delivering exceptional customer service. They understand that moving can be a stressful experience, and they aim to make it as smooth and stress-free as possible for their clients. Their friendly and knowledgeable staff is always ready to answer your questions, provide guidance, and address any concerns you may have.
From the moment you request a quote to the final delivery of your belongings, Sifa Movers is dedicated to ensuring your complete satisfaction. They are responsive, reliable, and attentive to your specific needs, which sets them apart from other moving companies in Nairobi.
Cutting-Edge Equipment
To ensure the safety and security of your belongings, Sifa Movers utilizes state-of-the-art equipment and vehicles. Their trucks are well-maintained and equipped with advanced technology to monitor and control the transportation process. Additionally, their packing materials are of the highest quality, ensuring that your possessions are protected during transit.
Competitive Pricing
Sifa Movers understands the importance of affordability in the moving industry. They offer competitive pricing while maintaining the highest standards of service. Their transparent pricing structure means no hidden fees or surprises. When you choose Sifa Movers, you get value for your money, knowing that your move will be handled professionally without breaking the bank.
Customer Testimonials
It's one thing for a moving company to claim they are the best, but it's another to hear it from their satisfied customers. Let's take a look at some testimonials from individuals and businesses that have entrusted their moves to Sifa Movers:
Sarah N. (Residential Move): "I was dreading the idea of moving, but Sifa Movers made it a breeze. From packing to unloading, they were professional and efficient. My furniture arrived in perfect condition, and the entire process was stress-free. I can't recommend them enough!"
James K. (Office Move): "We needed to move our entire office to a new location. Sifa Movers handled the project seamlessly. They ensured minimal downtime for our business, and their attention to detail was impressive. It's clear why they're the best in Nairobi."
Maria L. (International Move): "Moving to a different country can be overwhelming, but Sifa Movers took care of everything. Their expertise in international relocations and their excellent communication throughout the process made our move worry-free. We're so grateful for their services."
David M. (Specialized Move): "I had a grand piano that I needed to move to my new home. Sifa Movers treated it with the utmost care and precision. The piano arrived in perfect condition, and I was amazed at how smoothly the whole process went. I'm a happy customer!"
Sustainability Initiatives
In addition to their commitment to providing top-notch moving services, Sifa Movers is also dedicated to sustainability and environmental responsibility. They are conscious of the impact of their operations on the environment and have taken steps to minimize their carbon footprint. Some of their sustainability initiatives include:
Eco-Friendly Packing Materials: Sifa Movers uses recyclable and eco-friendly packing materials to reduce waste and environmental impact.
Fuel Efficiency: Their fleet of moving trucks is equipped with fuel-efficient technology to reduce emissions and promote a more sustainable transportation process.
Recycling and Reuse: Sifa Movers actively promotes recycling and reusing packing materials whenever possible.
Green Partnerships: They collaborate with suppliers and partners who share their commitment to sustainability and responsible practices.
Sifa Movers' dedication to sustainability reflects their forward-thinking approach to the moving industry, making them not only the best movers in Nairobi but also responsible corporate citizens.
Conclusion
When it comes to moving, Sifa Movers stands out as the best movers in Nairobi. Their commitment to excellence, wealth of experience, comprehensive services, exceptional customer service, and dedication to sustainability make them the top moving company in the region. Whether you're planning a residential move, a commercial relocation, or an international transition, Sifa Movers has the expertise and professionalism to ensure a smooth and stress-free experience. With countless satisfied customers and a stellar reputation, Sifa Movers is the reliable partner you need for your next move. Choose Sifa Movers for a seamless, efficient, and stress-free moving experience in Nairobi.