While moving into your first home may be thrilling for you, it is also one of the greatest and most difficult chores. Moving out on one's own for the first time can frequently be a very daunting endeavor for many people with sustainable intelligence. Simply because you have never done it before, you can feel anxious about moving out for the first time. There is no need to panic if you are unsure of how to move because we will highlight some guidelines to follow while moving out for the first time. Read also, Challenges incurred when moving.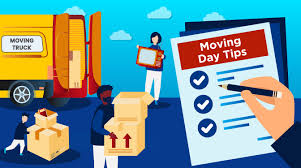 Here Are Some Fantastic Advice to Keep in Mind When First Moving Out:
1. Establish a moving to-do list.
You will undoubtedly receive a lot of advise when you are trying to move out for the first time, but few of those suggestions will actually be useful to you. Making a moving to-do list is therefore crucial before transferring your home from one location to another. Using this list will make moving faster and more dependable. Make a moving checklist instead of wasting time by sitting around doing nothing. Simply put all the things you need to do on paper and begin working on them to move forward.
Locate A Moving and Packing Service
To make the first time moving out easier and quicker, Finding the greatest moving and packing company should be your first and foremost priority. Using the greatest moving company's assistance will lessen the stress of your relocation. You can find movers and packers using a search engine, compile a list of qualified movers and packers, and choose based on their services. You can also look for the top moving company through recommendations from your friends and family.
Establish a moving budget.
How much money you have saved and how you manage your money are crucial for a successful transfer. Budgeting for your first move out should therefore be a key priority for you throughout that period. It is essential to compare rates to find the best offer. Before choosing one of the many moving companies with the greatest services, be sure to compare their pricing. Determine how much you can afford and stick to your spending plan for the best move.
Locate the Finest and Most Affordable Housing
Finding the greatest and most economical place to live is an essential step when moving out for the first time. When choosing a place to live after moving out for the first time, there are several factors to take into account. Look into various neighborhoods' levels of cleanliness, safety, accessibility, and cost of living, among other factors.
Prepare Your Property in Advance
Make sure to pack carefully while moving out for the first time.There is no need to add to your tension during a time when shifting is already a major event that will keep you on edge. Pack your belongings as soon as you can to ensure an efficient and dependable transfer. It's important to pack everything before moving day because waiting until the last minute to pack can make your entire day sluggish.
Bring a bag of essentials.
The most important thing to remember when moving out for the first time is to prepare an essentials bag. Pack the necessities you'll need before, during, and after your move. The fundamental components include toiletries, chargers, snacks and drinks that can be packed, clothing, and If this is your first time moving and everything seems overwhelming and stressful, you may not even know where to begin. Then, in order to make your first move effectively and dependably, you must adhere to the aforementioned instructions. These suggestions work best to improve your experience and get rid of your first-time moving dread.