Moving can be a stressful process, and it often generates a lot of waste and carbon emissions. However, you can make your move more eco-friendly by choosing environmentally conscious best movers and following sustainable practices. Here are some tips on how to do so: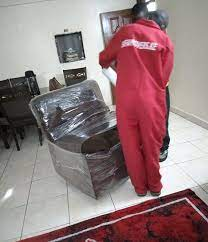 Research Eco-Friendly Moving Companies:
Look for moving companies that prioritize environmental responsibility. You can start by searching online for movers in your area and reading reviews. Many companies now advertise their eco-friendly practices, so be sure to check for this information on their websites.
Ask About Their Practices:
Contact potential best movers and ask them about their eco-friendly practices. Inquire about their fuel efficiency, packing materials, and recycling efforts. A truly eco-conscious mover will be transparent about their efforts.
Green Packing Materials:
Choose a moving company that offers eco-friendly packing materials. Some companies use reusable, recyclable, or biodegradable packing materials, which reduce waste. You can also ask if they provide options for renting reusable plastic crates instead of using cardboard boxes.
Energy-Efficient Vehicles:
Inquire about the types of vehicles the best movers uses. Many movers are transitioning to energy-efficient or electric vehicles, which produce fewer emissions and reduce their carbon footprint.
Minimal Waste and Recycling:
Confirm that the moving company has a policy for recycling or disposing of packing materials responsibly. They should be committed to minimizing waste by reusing, recycling, or donating items that are no longer needed.
Optimize Routes:
Choose a moving company that plans efficient routes to reduce fuel consumption. This can minimize the carbon emissions associated with your move.
Donate or Sell Unwanted Items:
Before moving, sort through your belongings and donate or sell items you no longer need. This reduces the amount of stuff you have to move, saving both time and energy.
Offset Carbon Emissions:
Some eco-conscious movers offer carbon offset programs. These programs calculate the emissions from your move and invest in projects that reduce an equivalent amount of greenhouse gases.
Reduce Paper Usage:
Opt for electronic communication and paperwork to minimize the use of paper. Digital contracts, invoices, and communications are more environmentally friendly.
Choose Local Movers:
Hiring a local moving company can help reduce the carbon footprint of your move, as they won't have to travel long distances to reach your location.
Plan Ahead:
Make a detailed moving plan to ensure you only use the necessary resources and minimize waste. This includes packing efficiently and avoiding last-minute rushes.
Reuse Packing Materials:
If you have used packing materials from a previous move, consider reusing them or passing them on to others who are moving.
By choosing eco-friendly movers and adopting sustainable practices, you can reduce the environmental impact of your move and contribute to a more environmentally conscious society. Be sure to ask questions, read reviews, and do your research to find a moving company that aligns with your values and priorities.