Moving to a new home or relocating your business is a significant undertaking that often comes with stress and challenges. One of the key decisions you'll face is choosing the right moving company to assist you in this process. While there are many factors to consider, the role of reviews in making this crucial choice cannot be overstated. In this blog, we'll delve into why reviews play a pivotal role in selecting the best movers and how you can use them effectively to ensure a smooth and successful move.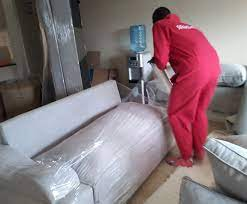 Why Reviews Matter
Insight from Real Experiences: Reviews are written by individuals or businesses who have first-hand experience with a moving company. They provide valuable insights into the company's performance, professionalism, and reliability.
Transparent Feedback: Reviews are often candid and honest, offering a transparent view of both positive and negative aspects of the moving experience. This transparency helps you make an informed decision.
Peer Recommendations: Reading reviews is like seeking advice from peers who have been through a similar situation. It allows you to benefit from others' experiences and learn from their successes and challenges.
Trust and Credibility: Positive reviews build trust in a moving company's reputation and credibility. They reassure you that others have had good experiences with the company.
What to Look for in Reviews
Now that we understand the significance of reviews, let's explore what to look for when reading them:
Overall Satisfaction: Pay attention to the overall satisfaction level of customers. Look for patterns in reviews – if a majority of reviews are positive, it's a good sign.
Consistency: Consistency across reviews is crucial. If you notice consistent praise or complaints about a specific aspect (e.g., punctuality, packing quality, pricing), take it seriously.
Response to Problems: Observe how the moving company responds to negative reviews. A company that addresses issues and offers solutions demonstrates a commitment to customer satisfaction.
Recent Feedback: Focus on recent reviews as they reflect the current state of the moving company. Outdated reviews might not accurately represent the company's current performance.
Details and Specifics: Reviews that provide specific details about the move, such as the date, type of move (local or long-distance), and the names of the movers, are often more reliable.
How to Use Reviews Effectively
Now that you know what to look for, here's how to use reviews effectively in your decision-making process:
Create a Shortlist: Start by creating a shortlist of moving companies based on positive reviews and recommendations.
Interview the Movers: Contact the shortlisted movers to discuss your needs and request a quote. During this process, ask for references to further validate their reputation.
Read Carefully: Take the time to read reviews thoroughly, considering both positive and negative feedback. Look for trends and common themes.
Ask Questions: If you have specific concerns based on the reviews, don't hesitate to ask the moving company for clarification or elaboration.
Final Thoughts
In today's digital age, reviews are a powerful tool for consumers. When it comes to choosing the best movers, they provide valuable insights, guide your decision-making, and ultimately contribute to a successful and stress-free move. Remember that while reviews are essential, they should be part of a broader research effort that includes verifying credentials, checking for licenses and insurance, and obtaining multiple quotes. By combining these elements, you can confidently select the moving company that best suits your needs and expectations, ensuring a smooth transition to your new destination.